Contact Lens Exam
Do you wear glasses? Have you thought about ditching your eyewear and trying contact lenses instead? Perhaps you would like to have contact lenses for special occasions so you can alter your appearance. Maybe you're interested in contact lenses because they are less restrictive when engaging in sports or other strenuous activities. Whatever your reasoning may be, Helena Vision Care in Helena, AL, offers quality optometry services including the prescribing of contact lenses. Dr. Jamie Reid is here to help.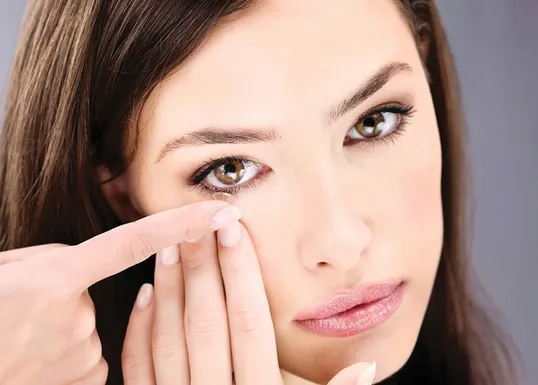 What happens during a contact lens fitting?
When you come to our optometry practice to purchase contact lenses, you will be required to have an examination of your eyes conducted first. This will give our optometrist valuable information about the health of your eyes to determine whether you are a candidate for contact lenses. During this exam, you will also have your prescription strength assessed so the contacts you walk away with provide a crisp and clear vision. A fitting exam is also necessary. This requires you to look into a piece of equipment while one of our optometry staff members sits opposite you. Our staff will measure your irises so your contact lenses are sized correctly. This way the lenses will remain in place after they are inserted.
Are contact lenses hard to care for?
You need to perform a few steps each time you wear your contact lenses to protect your eyes from injuries and to keep your lenses in the best shape possible. It is important that you wash your hands before you handle your lenses. Always use products recommended by our staff to keep your lenses clean. If your contact lenses feel dry inside your eyes, add a few drops of a rewetting solution to alleviate any discomfort. Avoid areas where excessive dust, sand, or other particles are known to fly around in the air. Alternately, wear protective goggles in these areas to protect your lenses and eyes. Never share your lenses and give your eyes a break from contact lens wear every so often.
What is needed to obtain contact lenses?
There are only a few steps necessary to get new contact lenses. You need a valid prescription to ensure your lenses are the right strength and that your eyes are in optimal health. If you have vision insurance, bring along your card so we can reach out to your provider to find out what portion they will pay for your examination and new lenses.
Get More Information from an Optometrist on Our Optometry Team
If you live in the Helena, AL, area and you are interested in finding out more about contact lenses and if they are right for you, call us at (205) 664-7577. The staff at Helena Vision Care will be happy to answer any questions you may have and to set up an appointment for new contacts. Dr. Jamie Reid is here to provide you with a contact lens fitting.